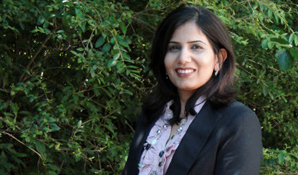 K. Hyder DDS
Dr. Hyder has a wealth of experience and training in both general and cosmetic dentistry. Not only does she bring extensive knowledge to her practice, she has a commitment to her patients to provide only the highest-quality dental care possible. Her goal is to help each and every patient enjoy a lifetime of healthy, beautiful Signature Smiles.
More about Dr. Hyder
K. HYDER, D.D.S., (DOCTOR OF DENTAL SURGERY)
Prior to Dr. Hyder's education in the US, she attended and graduated with a Bachelor's Degree in Dental Surgery from Rajiv Gandhi University in India in 2001. She then earned her Doctor of Dental Surgery (DDS) from University of Tennessee, College of Dentistry, Memphis in 2008, a Dean's List graduate and a lifetime member of the National Honor Society. As a student, Dr. Hyder was recognized with many honors. To name a few: Dean's Certificate of Achievement, Outstanding Academic Achievement Award 2007 & 2008, Honorary Odontological Society Award, The Dr. Robert N. Wilson Scholarship Award, The Lowell Dale Blevins Scholarship Award, The Elizabeth Club Scholarship Award for Women in Dentistry, and Excellence in Prosthodontics awarded by The Southeastern Academy of Prosthodontics. We are fortunate to have such an accomplished dentist! Dr. Hyder is also a member of several Professional Organizations:, The American Dental Association, The Virginia Dental Assoc., The Richmond Dental Society, The James River Study Club, The American Academy of Cosmetic Dentistry, The American Academy of Pediatric Dentistry, The Academy of General Dentists, The American Academy of Dental Sleep Medicine, The Virginia Academy of Dental Sleep Medicine, The American Association of Women Dentists, and The Indian Dental Association. After graduation, Dr. Hyder moved to Richmond and practiced for 3 years in a South Richmond Dental Clinic. In January, 2011 she became the proud owner of her own dental practice. Dr. Hyder's professionalism was influenced by her parents. Her mother is a retired dentist and her father is a physician. Dr. Hyder is married to Haroon Hyder who is a Family Physician practicing in the West End of Richmond. They have three lovely young children, a son Hassan, a daughter Hira and another son, Humza.
Signature Smiles VA