A Gentle Touch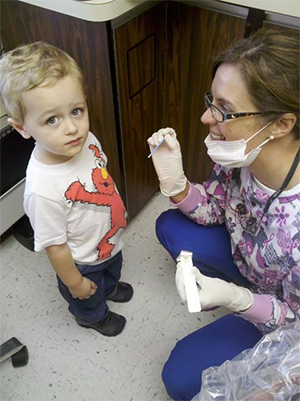 Dr. Hyder knows kids need a gentle touch at the dentist's office and welcomes children of all ages to her practice. Since this is an office run by Moms, we know that children can be apprehensive about going to the Dentist, that's why we practice with gentleness, affection and make every effort to make sure your children's teeth stay healthy between visits. It also helps that our office designed to make kids feel comfortable and relaxed – with plenty of toys, activities and a warm, inviting and fun décor.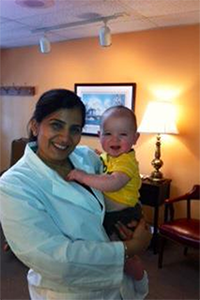 Dental Exam
A dental exam for a child usually consists of a full tooth exam, checking for cavities, proper alignment of the teeth and a gum exam. Digital x-rays are usually taken annually to look for cavities that cannot be seen. Teeth are counted, cleaned and polished with a choice of flavored paste. Usually a fluoride is painted on the teeth to strengthen and help to remineralize enamel. Age appropriate oral hygiene education and instruction is given. At the end of all check- ups, all patients receive a "dental goodie bag"  and our very  young patients may receive a sticker or a small toy.
For our older children and teens a check-up includes a full mouth exam, appropriate cleaning, digital x-rays if needed to check for decay and possibily a Panorex digital X-ray to check for any issues relating to wisdom teeth. Since the incidence of Oral Cancer has increased in teens and young adults, an oral cancer screening is performed using the Identafi Scope which can detect early occurances of the disease.
Dental X-Ray
Dental X-rays have come a long way. Todays dental X-rays are safer, faster, more comfortable and more informative than the X-rays of years past. Digital X-rays, one of the latest and most advanced dental technologies, produce high-quality images of your teeth that can be viewed instantly by you and your dentist on a LCD monitor. Digital X-rays reduce radiation by up to 90% and provide exceptional diagnostic information to ensure that potential problems are caught in their earliest stages. Intraoral photography is another alternative to traditional dental X-rays. With intraoral photography, problems such as cavities, fractures and discolorations in the teeth are captured through clear and sharp photographic images that are taken with a 35mm or digital camera.
Fluoride Treatment
Fluoride is a natural mineral that can be applied to the teeth to help prevent tooth decay as well as reverse early tooth decay. Many years ago scientists started to notice that children who were born and raised in areas with natural fluoride in drinking water had fewer cavities than children elsewhere. Fluoride absorbed by your body when teeth were forming (during mother's pregnancy to early childhood) integrates into the structure of enamel and makes it stronger.
After teeth eruption, fluoride found in your toothpaste, mouthwash, or in what your dentist places on your teeth still has a positive effect on your teeth. It strengthens the enamel and reduces the chance of tooth decay. We will sometimes recommend and perform additional fluoride treatments to prevent damage to your children's teeth.
Sealants
Dental sealants are ideal for preventing tooth decay, particularly for young patients. A plastic resin material coats and covers cracks and grooves in the teeth that are susceptible to decay, or cavities. The majority of decay on back teeth starts in the grooves and pits of chewing surfaces, especially during the first few years after their eruption. Sealing these surfaces with composite resins prevents this kind of decay. Sealants are thin layers of resin that are placed on the pits, fissures, and grooves of molars to prevent decay on these surfaces.
Sealants are one of the most effective methods of preventing decay on the surfaces where they are placed. Although it is still a possibility that decay may develop on surfaces in between teeth, sealants significantly reduce the overall chance of having cavities.
The American Dental Association offers some information online about the benefits of uses of sealants. Please click on this link for information on sealants or visit www.ada.org!
Sports Guards
A lot of children, and especially teens, play contact sports these days; football, basketball, baseball, soccer, and wrestling. The one thing all these activities have in common is the need for a well fitting mouth-guard to protect your child's teeth. Our practice can fit a patient for a mouth-guard and fabricate it. The American Dental Association highly recommends using mouth-guards for all sports activities, so ask us what we can do to ensure your chidl's dental health off the field and on it.